Greg Clark, the business secretary, has indicated that the government will back a Labour amendment to the motion approving the government's Brexit deal guaranteeing workers' rights. As the Daily Mirror reports, the amendment has been tabled by Labour MPs, and the government is welcoming it in the hope of getting some Labour MPs to back May's deal.
Asked about it on Sky News this morning, Clark said:



It seems to me, if you want to come together with an agreement, you've got to listen to all sides. When it comes to workers' rights, Theresa May has always been very clear that she believes in our strong tradition of workers' rights … The Labour party introduced the minimum wage, the Conservative party introduced the national living wage …

This amendment has been put down by a number of Labour MPs. It seems to be consonant with the cross-party view that has prevailed for decades now, that we should be strengthening workers' rights in this country … We have not come to the debate yet, but [the prime minister] has said, rightly in my view, that we will look at it with sympathy.
Quite what practical impact this amendment would have is a matter of debate, but John Mann, the Brexiter Labour MP who tabled it, told the Mirror it was mattered. "If we have a guarantee that works on workers' rights and conditions, that's significant," Mann said.
But Richard Burgon, the shadow justice secretary, was sceptical about the amendment when asked about it on the Today programme this morning. He said:



When it comes to the crunch I don't trust the Conservatives on workers' rights. Even the noises that are being made in the press by the Conservatives don't mean any such agreement would be legally binding when it comes to protecting workers' rights.
We'll hear from both May and Jeremy Corbyn on this later. May is holding a press conference, and Corbyn is giving what is billed as a major Brexit speech.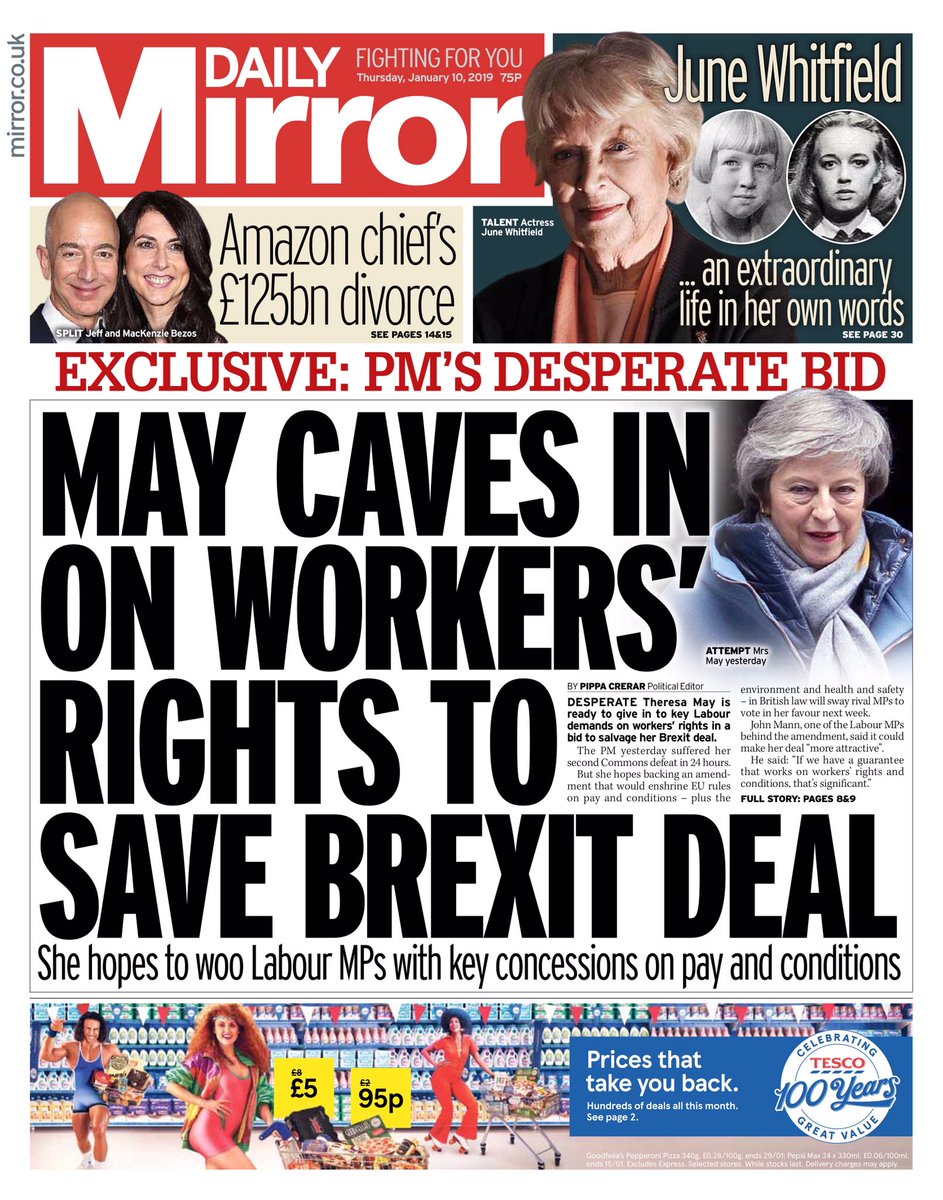 Here is the agenda for the day.
9am: Boris Johnson, the former foreign secretary, speaks at a conference in Dublin.
10.30am: Andrea Leadsom, the leader of the Commons, takes business questions in the Commons.
11am: Jeremy Corbyn gives a speech on Brexit.
After 11.30am: Michael Gove, the environment secretary, opens day two of the Brexit debate.
Late afternoon: Theresa May holds a press conference in Downing Street with the Japanese prime minister, Shinzo Abe.
As usual, I will also be covering breaking political news as it happens, as well as bringing you the best reaction, comment and analysis from the web, but mostly I will be focusing on Brexit, the Corbyn speech and the May press conference. I plan to post a summary when I finish, after 5pm.
You can read all the latest Guardian politics articles here. Here is the Politico Europe round-up of this morning's political news. And here is the PoliticsHome list of today's top 10 must-reads.
If you want to follow me or contact me on Twitter, I'm on @AndrewSparrow.
I try to monitor the comments BTL but it is impossible to read them all. If you have a direct question, do include "Andrew" in it somewhere and I'm more likely to find it. I do try to answer questions, and if they are of general interest, I will post the question and reply ATL, although I can't promise to do this for everyone.
If you want to attract my attention quickly, it is probably better to use Twitter.